Swimming tips at home with Lee Pickford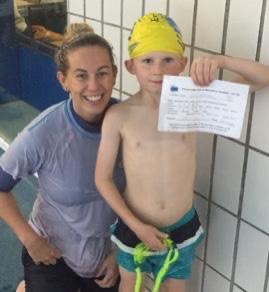 My name is Lee and I am the Leisure Manager at Stretford Sports Village. I have been with Trafford Leisure for a long time now; I love my work and have a great passion for swimming.
From a young age I enjoyed swimming with my family at my local swimming baths, now Move Urmston. I took part in weekly swimming lessons and went on to join the local swimming club – I've never looked back!
The early morning rises and late nights from my swimming club days are a thing of the past, and I became a fully qualified Swim England Level Two teacher, and have delivered and managed the 'Begin Well' learn to swim programmes across several sites in Trafford. I've met lots of people and so many learners. I still love to jump in and get wet at the pool, and regularly teach at Sale Leisure on Friday evenings as a specialist one-to-one swimming teacher. I want to share with people of all ages my love of swimming and all the benefits it can bring you.
How to help us maintain our swimming kick?
By lying on our back we want to try to replicate our kick in the swimming baths.
By doing this we are strengthening our core and leg muscles. We are also keeping our breathing under control.
We want you to kick from our hips
We want you to keep those legs long
We want you to keep those toes pointed
We want the legs to work in an up and down motion
We want the kick up and down to be small
We want the kick to be fast.
Could you do this for 30 seconds? Could you do for longer than your friends and family?
Who can share with us their biggest rocket blasting off?
The perfect rocket helps all of our swimmers demonstrate a streamline position
Streamline is key to help ease movement through the water without wasting any energy.
The water slips off and around us.
The key to a perfect rocket hands :
One hand on top of the other and our arms stretched up to the sky tucking in tight next to the ears and head to make the top of our rocket.
The body is stretched
Legs stay very close together and stretched
We point our toes
Adding a jump in will show us just how far you can blast off our swimming pool walls and make those muscles stronger.
Why not try this with your friends and family.
Arm movements to practice to help you come back to the pool
Lee demonstrates arm movements to practice to help you come back to the pool swimming better and faster.
The arms are the most important limbs for moving you forward when swimming. It's important to exercise them to gain muscle power and improve your coordination during your time out of the water.  Completing the arm movements even have a beneficial effect on your core and legs, would you believe it!
Here are the 3 enjoyable arm drills to practice at home…
Lee has a challenge for you…
"Don't let the lockdown and being at home impact your swimming training. Keep practicing and moving." Lee
Can you demonstrate your arms moving in a forward motion like a frontcrawl swimmer?
Can you demonstrate your arms moving in a back ward motion like a backstroke swimmer?
Challenge…
Can you do one arm forward and one arm backwards?
Can you complete the plank?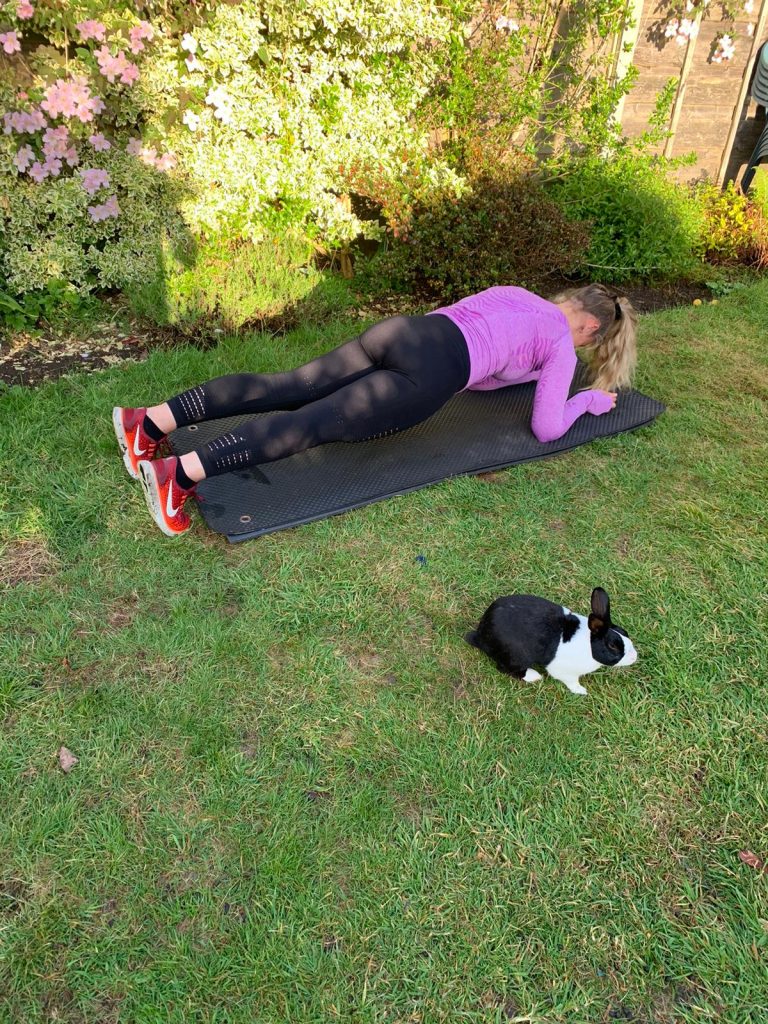 Lee is demonstrating the plank pose to help you develop your swimming power out of the pool.
Incorporate Lee's exercises into your weekly exercise routine to improve your swimming and you'll be ready to get back in the water.Remember! Exercise can help boost your mental state as well as your physical health.
Can you complete the plank?
Swimming isn't just about moving your arms & legs. Try this great exercise which works your core and it will help to keep your body moving and balanced when swimming. The plank will help you to build your core strength, which will also help you to move faster in the water by stabilising your body and stops you from dropping your rear or moving side to side. It's important to keep your core strong!
For correct positioning of the plank:
Support yourself on forearms and toes. Make sure your arms stay bent at 90 degrees with your elbows directly below your shoulders.
Keep your legs in line with your body and no more than hip distance apart.
Keep a straight back. Your mid-section will try to sag towards the floor – don't allow it!
Squeeze your abdominals (tummy muscles) and glutes (bum muscles) to achieve a straight spine-line.
Stay on your tip toes.
Remember to breathe.
Hold the plank for 30-60 seconds. Beginners should aim for a 30 second hold. Complete three sets of 30-60 seconds for each plank hold three times per week.
Why not create a fun, strengthen your core 'plank challenge' with your family!
Who can hold the plank for the longest time?
This will challenge your legs and core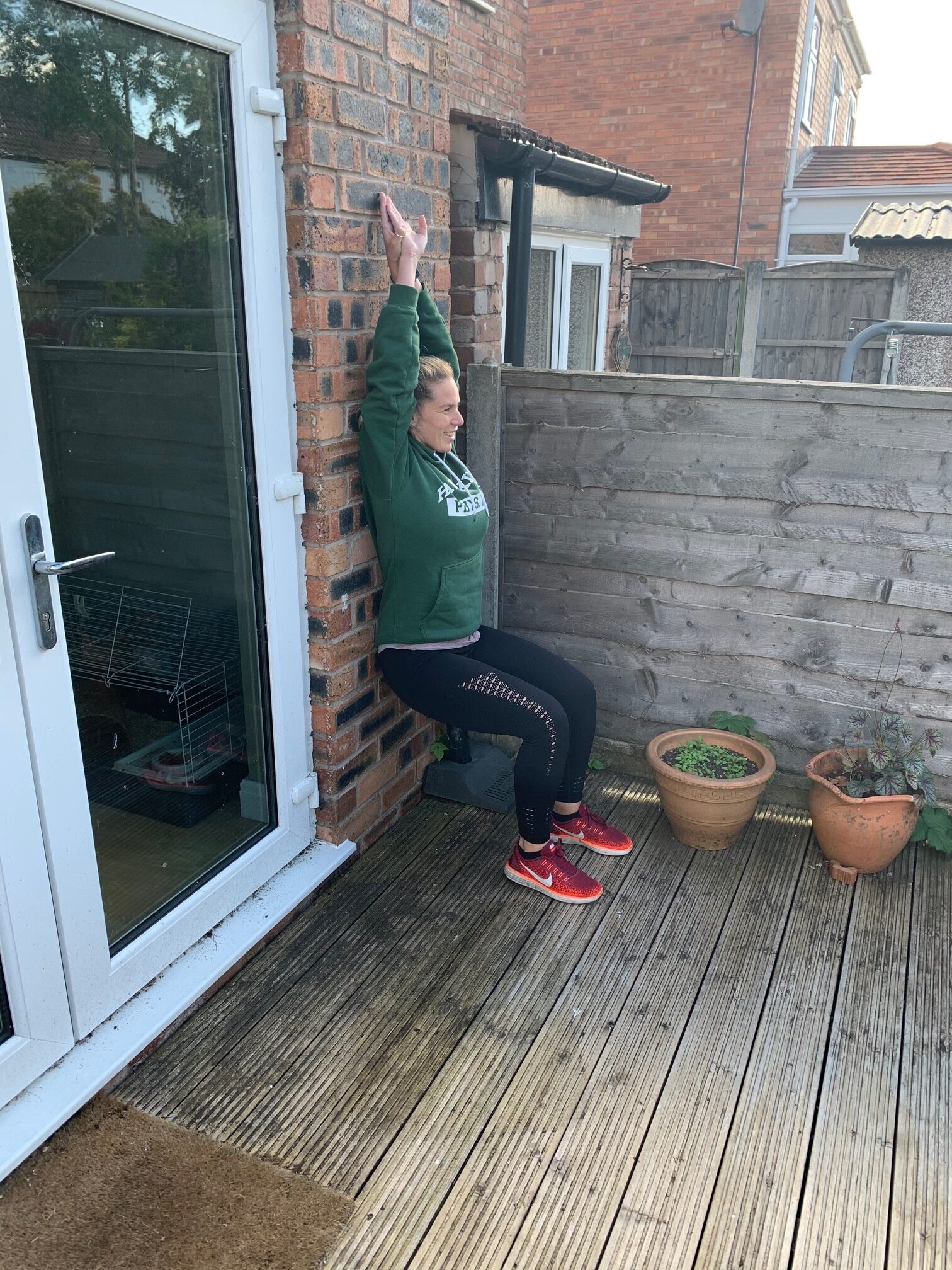 A great way to help us maintain strength while out of the water is via a wall sit.
This will challenge your legs and core.
To complete a wall sit against a flat surface
Have your back flat resting on
Legs bent at 90 degrees
Arms by the side (or extended in streamline position for that extra challenge)
Feet facing forward
Swim England home-schooling activity sheets
can be downloaded for free
A range of free content covering aquatics-themed topics has been made available by Swim England to parents who are home-schooling. There is more than 20 worksheets covering subjects such as water safety, swimming terms and spotting the dangers poolside can now be downloaded.
We're here to help you. Any questions? Our remote Customer Hub Team will be more than happy to help you.
Call 0161 749 2570 or email customerhub@traffordleisure.co.uk