Gymnastics
The Gymnastics Trafford Programme, one of the largest leisure centre schemes in the UK, delivers Gymnastics and Trampolining across Trafford Leisure's facilities. The programme is designed to offer a fun structured programme for children and young people of all abilities.
Gymnastics
We are proud to announce that Trafford Leisure and Gymnastics Trafford are now in partnership with the National Governing Body, British Gymnastics.
With the support of our qualified coaching team and the continuous support of British Gymnastics, we are certain that Gymnastic Trafford can accommodate and support all children and young adults to reach their full potential.
Gymnastics Programme Structure
Children are introduced to Gymnastics from in our Gymfants class which is a parent and toddler session aimed at children from 18 months to 3 years old. From there, the children will work through our Gymstars (3-5 years) program, our age 5 – 7 and 8+ programmes with the opportunity to continue gymnastics further with our new Youth Gymnastics Classes.
All of our classes will work towards the British Gymnastics Proficiency Awards and will be continually assessed throughout the classes.
If your child is selected to join a class that exceeds 1 hour, the payment will be higher depending on the duration of the class.
Available Gymnastics Classes Below
For Trampolining Classes please see our Trampolining page

Sorry, no session data available for this week.
Secure your place!
Buy a Gymnastics / Trampolining Membership
Buy a Gymnastics or a Trampolining membership for your child online now. All classes are subject to limited availability.
*Customers must take out a membership for a class, assessment sessions are excluded from this offer. Offer only valid for new customers only.
Try before you Buy! Book a Gymnastics / Trampolining Assessment
If you feel your child is ready to enrol on a Gymnastics or a Trampolining course, you can now book in for an assessment with a qualified Gymnastics/Trampolining Teacher.
Please see below a screenshot to guide you on booking your child on this assessment, once you have logged in to your child's account you will need to select  'Advanced Search' and choose your desired leisure centre. Then choose either Gymnastics or Trampolining in the 'Activity Type'. Please remember to change the 'Start Date' 02/09/19 'End Date' to 08/09/19 or your search won't work. Click 'Search' and then select the class you would like to book.
Once you have booked you will receive an email with instructions of setting up your login PIN number.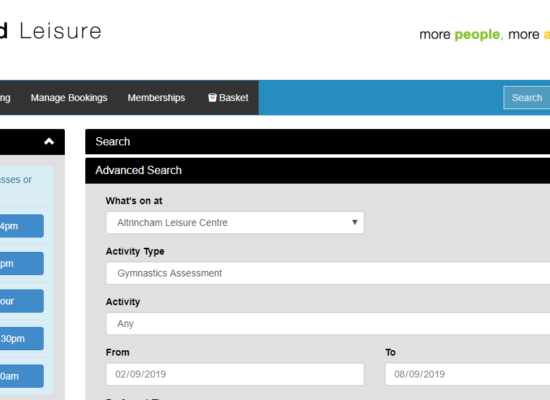 Please note: You will be taken to our online bookings system to go through steps to book your assessement at your chosen leisure centre, day and time.
Please note: When asked if you are signing up for 'pay as you go' or  'sign up for a membership' – please select 'pay as you go'.